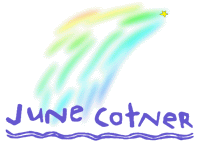 june@junecotner.com
P.O. Box 2765
Poulsbo, WA 98370
June's Biography
Meet the Contributors
Articles on Publishing

Meet the Contributors
If you wish to contact any of the contributors below, please email june@junecotner.com with your message and I will forward it.
Joan Marie Arbogast is a freelance writer and author who lives in northeastern Ohio with her family. Her poems, short stories, and articles can be found in numerous children's magazines. Her books include The Advent-Christmas Book, The Lent-Easter Book, and Buildings in Disguise. In addition to writing, faith, family, and service bring her joy.
Martha K. Baker, a freelance writer in St. Louis, has published in The New York Times, Glamour, and Cat Fancy. She has reviewed films for thirty years, currently for KDHX Radio; she has reviewed books for thirty-five years, currently for Episcopal Life and Pages. Her work has appeared in six of June Cotner's anthologies, including Baby Blessings, Animal Blessings, and Christmas Blessings. She holds a license to preach in the Episcopal Diocese of Missouri.
Helen Bar-Lev has lived in Israel for 40 years, and has held 90 exhibitions of her landscapes, 33 of which were one-person shows. Her poems and artwork have appeared in numerous online and print anthologies www.helenbarlev.com. Helen is Senior Editor of Cyclamens and Swords Publishing, www.cyclamensandswords.com, former editor-in-chief of Voices Israel Annual Anthology, current Secretary of Voices Israel Group of Poets in English and is also the global correspondent and contributing editor for SKETCHBOOK, A Journal for Eastern and Western Short Forms http://poetrywriting.org.
Judy Barnes, a former elementary school teacher, is now happily retired with her husband in beautiful northern Idaho. A freelance writer, she has published poems and articles in numerous magazines and books, including Family Celebrations, Wedding Blessings, and Mothers and Daughters. In addition to writing, she enjoys meeting with her book group and spending time with her three grandsons.
Ellen Bass's most recent books of poetry are The Human Line (Copper Canyon Press, 2007) and Mules of Love (BOA Editions, 2002). She was co-editor of the first major anthology of women's poetry, No More Masks! (Doubleday, 1973) and her non-fiction books include Free Your Mind and The Courage to Heal (HarperCollins) which has been translated into twelve languages. She teaches in the MFA program at Pacific University and at conferences and workshops around the world. Web site: www.ellenbass.com
Gwyneth Bledsoe, an English freelance writer, lives in Nampa, Idaho with her American husband. After 17 years in I.T. and 12 years in Christian ministry, she's chosen to focus on technical and creative writing, and consulting for non-profits in her spare time. Her novel, Death Before Breakfast, is available on Amazon and iTunes and her poetry appears in June Cotner's anthologies: Wedding Blessings, House Blessings and Garden Blessings (May 2014). Gwyneth enjoys photography, French, Christian history and mentoring refugees. Visit www.gwynethbledsoe.com.
Jean Shinoda Bolen, M.D. is a Jungian analyst, author and activist, clinical professor of psychiatry at UCSF and an internationally known lecturer and author of The Tao of Psychology, Goddesses in Everywoman, Gods in Everyman, Ring of Power, Crossing to Avalon, Close to the Bone, The Millionth Circle, Goddesses in Older Women, Crones Don't Whine, and Urgent Message From Mother. www.jeanshinodabolen.com
Colleen Foye Bollen is an award-winning writer and healing arts pracitioner. During her seventeen-year career as a professional freelance writer she has placed articles in numerous publications, including Sunset, The Christian Science Monitor, and Mothering magazine. Her healing practice, Flowing Stillness, draws on her skills as a Jin Shin Jyutsu practitioner, Reiki Master and certified Sound Healer. Web site: www.flowingstillness.com
Ann Reisfeld Boutte is an award-winning writer of poems, essays, and feature stories. She has an MA in Journalism and has been a feature writer for a daily newspaper and a national wire service. Her poems have appeared in June Cotner's Dog Blessings, Forever in Love, Baby Blessings, and Comfort Prayers.
Janie Bowman is a writer who lives on an acre of woods in the Pacific Northwest with her husband, a dog and cat, various birds and squirrels, and sometimes other wildlife. She's been writing since she could hold a Number 2 pencil and coedited Think Fast! The ADD Experience, which is permanently archived in the Smithsonian Institute. Poetry is her passion, and she has been published in Bedside Prayers and the 2006 Everyday Blessings calendar, both edited by June Cotner. Web site: www.brightword.com
Noreen Braman is a writer and designer from Jamesburg, New Jersey. She is the author of I'm 50-Now What? Links to other things she has written can be found at www.noreenbraman.com
Julie Broski is a meteorologist, author, educator, and advocate for the rights of children with special needs. Julie's book Being Me (Children's Press, March 2006) is about how a deaf child communicates differently from some children, but like all kids, enjoys watching clouds, painting and "being loved for just being me.
Judy Ackley Brown
has recently rediscovered her love of writing and enjoys personal journaling and the occasional contribution to her favorite blogs. Judy's work is included in
Tangerine Tango: Women Writers Share Slices of Life,
edited by Lisa Winkler. A lifelong proponent of healthy living, Judy is currently enrolled in The Institute for Integrative Nutrition. After growing up in Rio de Janeiro, Brazil, Judy began a life of travel and continues to explore the world. She lives
with her husband in the historic town of Hillsborough, North Carolina. They have two grown children who reside in New York City and Washington D.C.
Leah Browning is the author of three nonfiction books for teens and pre-teens (Capstone Press). Her poetry, fiction, essays, and articles have appeared in a variety of publications including Queen's Quarterly, 42opus, The Saint Ann's Review, Tipton Poetry Journal, Brink Magazine, Autumn Sky Poetry, and several anthologies. Leah also serves as the editor of the Apple Valley Review, an online library journal. Web sites: www.leahbrowning.com and www.applevalleyreview.com
Susanne Wiggins Bunch lives, writes, and worships in the foothills of the beautiful Blue Ridge Mountains of central Virginia. The wife of Jim, mother of Bryan, teacher, writer and poet, Susanne's writings reflect her Christian faith, love of nature, and devotion to family. She has recently completed two children's books, Blessed as Blessed Can Be, and Finding God.
Joseph Byron divides his time between freelance writing and serving as the Dean of the prestigious Los Angeles Film School. Despite an extensive background in the cinematic arts, he believes that the written word serves its own function working on the mind of the reader and avoids adapting his literary images to film. He insists that his novel-in-progress, Notes on a Blue Door, can never be made into a motion picture.
Rosalie Calabrese lives and works in New York City, where she is a management consultant for the arts. Her poems have appeared in publications ranging from Cosmopolitan to Poetica and Poetry New Zealand, and she has been a featured poet in readings at book stores, colleges, libraries, and other public spaces. In addition to poetry, she writes short stories, books, and lyrics for musicals.
Paulette Callen is the author of Charity and numerous poems and stories that appear in print and webzines. Born and raised in South Dakota, she now lives on Manhattan's Upper West Side with Lily, a rescued, blind Shih Tzu.
Janine Canan, a frequent Cotner contributor, has authored twenty books, recently Ardor: Poems of Life and Garland of Love, 108 sayings by Amma. Janine edited two award-winning anthologies, She Rises like the Sun and Messages from Amma; translated French poet Francis Jammes and German Jewish poet Else Lasker-Schüler; has published a collection of essays, Goddesses Goddesses, and two illustrated storybooks, Journeys with Justine and Walk Now in Beauty, part of the Navajo Literacy Project. A psychiatrist in Sonoma CA, she graduated from Stanford with distinction and NYU School of Medicine. Connect with her at www.JanineCanan.com or Facebook.
Sylvia Wave Carberry teaches creative writing in California. Her work has appeared in many of June Cotner?s anthologies, including Graces, Bedside Prayers, and Mothers and Daughters. Now Sylvia Wave?s first book of poems, Finding God?s Footprints, is available. In the new book she presents everyday situations and characters in such a way that God's presence shines through. For details on how to order Footprints, write to Sylvia Wave Carberry, 5920 Jordan Ave., El Cerrito, CA 94530.
Sandy McPherson Carrubba, a Buffalo, NY, poet, writer, and former first-grade teacher has had short stories, essays, and poetry published in literary and mainstream magazines.
Aimee Cartier's innate talent and interests have led her to years of study in spiritual practices, healing, and the intuitive arts. Her natural ability to empower others has led her to a career as an intuitive, writer, and teacher. She is the founder and director of Spreading Blessings Media, a company dedicated to providing tools for inspired living. More about her inspirational writing, intuitive readings, and empowering classes can be found on her website: www.spreadingblessings.com.
Moushumi Chakrabarty is a writer, anthologist, and poet based in Ontario, Canada. She is the author of two non-fiction books: Positive Thoughts for Writers and Fighting for Women's Rights: The Extraordinary Adventures of Anna Leonowens. Feel free to visit her home on the web: www.moushumichakrabarty.com.
Mary Huff Chandler is a freelance writer living in Conyers, GA. She enjoys writing greeting cards and has verses published in numerous cards. She also has verses published in June Cotner's Wedding Blessings and House Blessings.
Kelly Cherry is the author of eleven books of poetry, eight of fiction, and four of nonfiction. She has also translated two classical plays. She and her husband live on a small farm in Virginia.
Madonna Dries Christensen is the author of two books: Swinging Sisters and Masquerade: The Swindler Who Conned J. Edgar Hoover. Three times nominated for the Pushcart Prize, she's a columnist for Creativity Connection, contributing editor to Yesterday's Magazette and The Perspiring Writer, and editor of Doorways Memoirs (www.doorwaysmemoirs.com). Web site: www.MadonnaDriesChristensen.com
Don Church is a retired electrical engineer with ten books of poetry published, of which eight were transcribed into Braille. He has published over 1200 poems and written an additional 1500. He has been giving talks on poetry for thirty-six years to all types of groups, from pre-kindergartners to senior citizens. His first book, From a Tree House, was published in 1964, and his tenth, The Holy Bible in Rhymed Verse, was published in 2004.
Jill Clark is a freelance writer of prose and poetry. Her work has recently appeared in the 2006 Everyday Blessings calendar, Bless the Day, and the endangered species series Vanishing from Grasslands and Deserts, Vanishing from Forests and Jungles, and Vanishing from Waterways. She is an assistant professor of English at Daytona Beach Community College.
Sally Clark lives in Fredericksburg, Texas with her family. She has published award-winning poetry for adults and children, personal essays, greeting cards, and children?s stories. Her work appears in June Cotner's 2006 Everyday Blessings calendar, Pocket Prayers, Miracles of Motherhood, To Have and To Hold, and Dog Blessings. Visit: www.SallyClark.info
Jennifer Lynn Clay, age 16, is a straight-A student who has been published more than thirty times in national and international magazines and in several books including House Blessings, Chicken Soup for the Preteen Soul 2, and Chicken Soup for the Girl's Soul. A State Finalist for Power of the Pen in 2004, she has appeared on live television and given several radio interviews about her accomplishments as a writer.
Sheryl Stone Clay, a contributor to Teen Sunshine Reflections, is a stay-at-home mom, though she holds Bachelor's Degrees in both Nursing and Psychology. She lives in Ohio with her husband Stan and children David, 18, currently a student at Vanderbilt University, and Jennifer, 16, a well-published poet and writer of Young Adult novels. Her family is the most important thing in her life.
William Cleary is the author of the recent Prayers to an Evolutionary God, How the Wild Things Pray, and some dozen other books of spirituality. His original music and other writings are listed at www.clearyworks.com.
Elayne Clift is a writer, journalist and adjunct professor affiliated with several New England colleges and universities as well as Payap University in Chiang Mai, Thailand. Her latest edited collection is Women, Philanthropy and Social Change: Visions for a Just Society (UPNE/Tufts U. Press, 2005). She is currently completing her first novel, a contemporary, feminist retelling of The Scarlet Letter.
SuzAnne C. Cole, former college English instructor, enjoys being a wife, mother, and grandmother, traveling, hiking, and writing from a studio in the Texas Hill Country. More than three hundred and fifty of her poems, essays, short stories, and articles have been published in commercial and literary magazines, anthologies, and newspapers. Her short plays have had several productions. She is pleased that her poems have appeared in the fourteen of June Cotner's books.
Phyllis K. Collier is the author of two nonfiction books and a book of poetry, Cain's Daughters, which was published in 2005. Three of her prayers appear in June Cotner?s 2006 Everyday Blessings calendar and one prayer in Pocket Prayers: Praises & Graces for All Faiths.
Ginny Lowe Connors is the author of Barbarians in the Kitchen (Antrim House Books, 2005) and editor of three poetry collections. Among her numerous poetry awards is the grand prize in Atlanta Review's International Poetry Competition. A teacher in West Hartford, Connecticut, Connors was named "Poet of the Year" by the New England Association of Teachers of English in 2003. Her poetry appears in many literary magazines and anthologies. More information about Barbarians in the Kitchen can be found at www.antrimhousebooks.com/connors.html. To find out more about Proposing on the Brooklyn Bridge or other collections she's edited, please visit www.graysonbooks.com.
Deborah Gordon Cooper is the author of two poetry chapbooks, Redirection of the Heart and the gods of wild things. Her writing group recently published an anthology, The Moon Rolls Out of Our Mouths, with Calyx Press of Duluth, MN. Deborah and her husband, Joel Cooper, a fine-art screenprinter, frequently exhibit their collaborative images. Web site: www.cooperartpoetry.com.
E. Shan Correa is a former university instructor (English/journalism) and a full-time freelancer who writes for both children and adults. Her award-winning work has been published in regional and national books, magazines, and literary journals. Her most recent sales were fiction to Japanophile, Cricket Magazine and Cicada; poetry to American Poets & Poetry, A Time for Singing, and the Rain Bird; and articles to The Honolulu Star-Bulletin, Honolulu Magazine, and ByLine magazine.
Jim Croegaert is a singer/songwriter whose songs have been recorded by a number of artists, including Noel Paul Stookey, Steve Bell, and Sandy Patti. He also records his own songs, which are available on his website, www.roughstonesmusic.com. He is also a hospital chaplain in Chicago, a parent of three children and grandparent of three. He resides in Evanston, Illinois with his wife of thirty-seven years, Janalee, and walks the mile-and-a-half to and from Lake Michigan most mornings in whatever weather presents itself that day.
Barbara Crooker's books are Radiance (www.word-press.com/ and Line Dance (www.word-press.com/crooker_linedance.html). She's appeared in sixteen June Cotner anthologies, and lives and writes in rural northeastern Pennsylvania with her husband and adult son, who has autism. Web site: www.barbaracrooker.com
Daniel M. Daniels has lived in all the major West Coast cities. He penned his own column for his college newspaper called the Motley Crew, a satirical look at College life in a small town. An accomplished artist, musician and writer, he lives his daily life in the business world and fills his real life with the pursuit of creativity.
Mary Maude Daniels, a native Washingtonian now living in Oregon, has been a writer all her life. However, her first submission wasn't until 1998?with a poem written for her Silver Wedding Anniversary. Her philosophy of life is simple: to live it to the fullest with whimsical elegance, heartfelt holidays, joyful expression, and a deep respect filled with gratitude for the diversity of her life, and all the miracles of friend and family who contribute to that. Especially Dan and June!
Barbara Davis-Pyles, Ph.D., is a former psychologist with a passion for family and freelancing. She writes poetry for grownups and all sorts of wild and crazy content for the children's educational market. She is currently looking forward to the release of her first middle grade novel.
Marylisa DeDomenicis's poems have appeared in books (Center Street/Time Warner Books, Andrews McMeel Press, Loyola Press), a calendar (Sourcebooks, Inc.), a broadside (Alpha Beat Press), printed journals, online publications, and her chapbook, Almost All Red, was nominated for a Pushcart Prize. In 2006, her poem "Drawing an Equation," a Ginsberg finalist published in The Paterson Literary Review, was performed as interpreted by actors and actresses at the Rtiz Theatre, located just outside of Philadelphia (sponsored by New Jersey State Council on the Arts). She holds monthly open mic nights at her restaurant near the shore of Southern New Jersey. Her work can be found on her website, www.notherpoet.com.
Award winning author Corrine De Winter (www.corrinedewinter.com) has been widely published. Her work appears in Teen Sunshine Reflections, Bless the Day, Heal the World, Comfort Prayers, The Language of Prayer, Sacred Journey and hundreds of other publications.
Dianne M. Del Giorno is a teacher and retreat facilitator at Century College in White Bear Lake, Minnesota, and a practitioner in Healing Touch Spiritual Ministry at St. John in the Wilderness Episcopal Church. In teaching, facilitating, and healing, she is blessed to do work that she loves with people she loves. Writing is always part of that work and joy.
Magie Dominic, a Canadian poet, writer, and artist is the author of The Queen of Peace Room. Web site: http://homepage.newschool.edu/~magie
Lisa Dordal lives in Nashville, TN with her partner, Laurie, and their three dogs. She received her M.Div. from Vanderbilt University Divinity School in 2005, where she was the recipient of the Saint James Academy Award, the William A. Newcomb Prize, and the Luke-Acts Prize. Her writing has appeared in Alive Now, Theology Today (online version), The Vanderbilt Review, Bridges: A Jewish Feminist Journal, Poems & Plays, and CG Magazine.
Fran Dorf's acclaimed, internationally published novels include A Reasonable Madness (1990), Flight (1992), and Saving Elijah (2000), which a starred Publisher's Weekly review called, "a stunning novel that crackles with suspense, dark humor and provocative questions." Fran holds an MA in psychology; writes poetry, essays, and articles; and conducts "write to heal" workshops to help people cope with grief, illness, and loss. Fran is well acquainted with loss; Saving Elijah was inspired by the tragic death of her son, Michael. She blogs at www.frandorf.com (The Bruised Muse), and she's gaga over her Labrador Retriever, Molly!
Jan Dunlap is the author of the laugh-out-loud Birder Murder Mystery series that combines birds, mystery, conservation and comedy. Her humorous memoir - Saved By Gracie - recounts how the shelter dog she didn't want to adopt helped her overcome an anxiety disorder and in the process, renewed her faith and joy in life. Jan welcomes visitors and laughter at www.jandunlap.com.

Lonnie Hull DuPont's poetry is widely published and anthologized, and her work has been nominated for a Pushcart Prize. She is the author of The Haiku Box, a how-to book with kit published by Tuttle, and five chapbooks from small San Francisco presses. After living on the coasts for many years, she has settled in her hometown of Jackson, Michigan.
Peg Duthie works as a copyeditor and instructional designer in Nashville, Tennessee. She is also a Unitarian Universalist lay preacher. For more information about her work and writing, please visit her website at www.nashpanache.com or contact her at
Kate Dwyer's life, she's happy to admit, has gone to the dogs. When she's not tramping about the Sierra Nevada foothills with them, or writing poems about them, she's busy engraving one of her dazzling, sterling silver jeweled I.D. tags for them. She can be contacted through www.bellatoccatags.com.
Dena Dyer is an author, speaker and entertainer from the Texas Hill Country. She has authored books, articles, devotionals, and greeting cards, and has had poems featured in June Cotner's House Blessings and Miracles of Motherhood. Her website is www.denadyer.com
Mary Kennedy Eastham's award-winning poetry and short stories have appeared in over seventy-five books, magazines, small presses, and e-zines in the United States and abroad. Her poetry collection The Shadow of a Dog I Can?t Forget was a poetry winner in the Best Books of 2005 contest sponsored by USA Book News. "Points of Love," a poem from that collection, was a $5,000 award winner in the 2005 Dorothy Sargent Rosenburg Annual Poetry Competition.
Julia Taylor Ebel's writings reflect her love of nature, mountain culture, and family stories. She is the author of a historical picture book, Walking Ribbon, and two biographies: Addie Clawson, Appalachian Mail Carrier and Orville Hicks: Mountain Stories, Mountain Roots. Her poems frequently appear in magazines, including Cricket and Pockets. She lives in Jamestown, North Carolina, but a part of her heart is in the North Carolina mountains, where hikes lead to poems and conversations lead to stories. She is available regionally for school and community programs. Web site: www.juliaebel.com
Lori Eberhardy has been published in eleven of June Cotner's anthology books. She enjoys painting, being inspired by positive people and sharing her poetry with others. Lori lives in Overland Park, Kansas and is a featured artist in a local gift shop. One of the highlights in her life is spending time with her family and friends who are often the inspiration for her poetry.
Gloria Edmonson-Nelson, author and publisher of Glo's Prose Publishers, specializes in nonfictional, how-to, inspirational material, and poetry. She has written several books on abuse and on prayer, and also a screenplay. In 2004, she co-wrote and published her deceased sister's memoirs following her death from sarcoma cancer entitled: "Why Me - Why Not: My Experience with Sarcoma Cancer." Books are available from: Glosprospublishing.com, Amazon.com, and many other sites. For information, please call 800-992-2873.
Susan J. Erickson is a poet and collage artist who lives in Bellingham, Washington with her number one fan. She writes to her grandsons each week. Her work also appears in multiple June Cotner volumes, in literary journals, online and in her chapbook The Art of Departure, published by Egress Press.
Joanne Esser lives in Minneapolis, Minnesota with her two daughters. She writes poetry and creative nonfiction and is working on her first children's book. She has been a teacher of young children and/or a school administrator for over 25 years. Her poetry has been published in White Pelican Review, Main Channel Voices, The Sow's Ear Poetry Review and Water~Stone, among other journals.
Janice A. Farringer is a poet and freelance writer living in Chapel Hill, NC. Her book reviews may be read at www.laurahird.com. As a breast cancer survivor she is delighted to have her story included in the anthology, Voices of Breast Cancer: Stories for Courage, Comfort and Strength (LaChance Publishing, 2007). Her day job is in advertising at Ogilvy Durham.
Roberta Finkelstein is the minister of South Church (www.southchurch-uu.org), the Unitarian Universalist congregation in Portsmouth, NH. She shares her home with her husband Barry, Pepper their rescue dog, and Bonnie and Clyde, two formerly wild kittens.
Katherine Fischer is a writer and Clarke College English professor who lives along the shores of the Mississippi River. Her writing appears frequently in newspapers and magazines as well as on National Public Radio. Her book, Dreaming the Mississippi, will appear in bookstores in fall 2006.
Anne Calodich Fone is a wife, mother, former teacher, and current freelance writer who looks at her writing as a ministry of encouragement. Her credits with twenty-three publishers have included House Blessings, Comfort Prayers, Chicken Soup, and two Elf-Help books written for Abbey Press.
Barbara Furr, a native of North Carolina, has lived in New Mexico so long she feels like a native there, also. She has been married to the same man for 57 years and they have one son, four daughters, and three grandchildren. Their daughters are featured in her poem, "There Are Things I Would Never Do Again," published in June Cotner's anthology, Mothers and Daughters. Barbara is currently working on her second novel.
Charles Ghigna (Father Goose) is a poet, children's author, and nationally syndicated feature writer who helps promote the love of children's literature by speaking at schools, colleges, conferences, and libraries. Charles is the author of more than thirty books of poetry for children and adults from Random House, Disney, Abrams, Simon & Schuster, Scholastic, and other publishers. His award-winning books have been featured on ABC's "Good Morning America," been selected by the Book-of-the-Month Club, received the Parents' Choice Book Award and the ALA Book Award. His poems for children appear in Cricket, Ladybug, Highlights for Children, Ranger Rick, Children's Digest, Children's Playmate, Humpty Dumpty, Jack and Jill, Child Life, and his poems for adults have appeared in The New Yorker, Harper's, Rolling Stone, The Wall Street Journal, The New York Times, Good Housekeeping, Ladies' Home Journal, McCall's, Writer's Digest, The Saturday Evening Post, Guideposts, and many other magazines, newspapers, literary journals, textbooks, and anthologies including several compiled and edited by June Cotner. For more information, please visit the Father Goose web site at www.FatherGoose.com.
Cleveland W. Gibson is a creative writer published in many genres around the world. Moondust represents his short story collection; Billabongo his fantasy novel. He is happy to have a poem in Dog Blessings. Contact him through http://linktiles.com?tile=641
Marilyn Huntman Giese's writing touches the beauty of life and the responsibility to celebrate the good. Her poems appear in Baby Blessings, House Blessings, Pebble and Rivulets. Her video of the Dalai Lama was a finalist for a Cammy Award. Her book, When the World Changed: A Revolutionary Peace (the story of Jesus in color photos from Israel and Turkey) is available at http://www.authorsmarketinggroup.org/Authors/Marilyn.htm.
Michael S. Glaser's most recent book is Being a Father. A professor of English Emeritus at St. Mary's College of Maryland, he has published over 500 poems in anthologies, journals and magazines. He served as the poet laureate of Maryland from August 2004 until August 2009. More information can be found at www.smcm.edu/poet/
Benita Glickman is a mentor and teacher in New York City as well as a consultant to Brown University. She is the winner of the Currycomb English Award and the Alice Hertz Heniger Award for Children's Literature. Her poetry appears in numerous literary publications and in Wedding Blessings, an anthology edited and compiled by June Cotner.
Ingrid Goff-Maidoff is a poet and inspirational writer who lives on Martha's Vineyard with her husband and two daughters. Ingrid has been producing hand-made books and gifts for heart-centered living through Sarah's Circle Publishing for over fifteen years. Her e-newsletter, Portions of Joy, is enjoyed by thousands of subscribers. Web site: www.sarahscircle.com
Taylor Graham is a volunteer search-and-rescue dog handler in the Sierra Nevada. Her poems have appeared or are forthcoming in American Literary Review, The Iowa Review, The New York Quarterly, Poetry International, Southern Humanities Review, and elsewhere. She's included in the anthologies Dog Blessings and California Poetry: From the Gold Rush to the Present (Santa Clara University, 2004). Her book The Downstairs Dance Floor (Texas Review Press, 2006) was awarded the Robert Phillips Poetry Chapbook Prize.
Marjorie Gray thrives on reading, writing, and being outdoors. She works part-time directing her church neighborhood senior center and enjoys family, especially her husband Jim, four grown children, and grandson Judah.
Marian Griffey is a counselor, board certified in domestic violence and acute traumatic stress management. Her love of reading and creative writing has proven to be a beneficial tool in both her personal life and career. She lives in Gainesville, Florida with her husband and seven cats.
Annette Gulati is a freelance writer based in Portland, Oregon. Her poetry, short stories and articles for children have appeared in magazines such as Babybug, Ladybug, Highlights for Children, Clubhouse Jr. and others. Her essays for adults can be found in such publications as the Oregonian, Daughters, The Polishing Stone and Children's Writer. Visit her at www.annettegulati.com.

Rasma Haidri has taught French, English, remedial reading, and creative writing and has worked as Poet-in-the-Schools. Raised in Tennessee, educated in Wisconsin and France, she lived in Hawaii before moving to the Norwegian Arctic seacoast. There she basks in a view of the fjord that her daughter (age five) thought was an oil painting on the wall when they bought the house over the internet, and teaches American and British studies at a post-secondary school. Web site: www.rasma.org
In the last few years, Gary Hanna has received Fellowships from the Delaware Division of the Arts and the Mid-Atlantic Arts Foundation and won the Brodie Herndon Memorial Prize and the Wallace W. Winchel National Poetry Contest. His poems have appeared in Inkwell, Common Ground Review, Hawaii Pacific Review, Lyric, Rhetoric, California Quarterly, Litchfield Review, Mid-America Poetry Review, Clare, ByLine, Bryant Literary Review, Peregrine, Rockhurst Review, Connecticut River Review, Delmarva Quarterly, Broadkill Review, Main Channel Voices, Mad Poets Review, Sendero, City Works Literary Review, Ancient Paths, Phantasmagoria, Tipton Poetry Journal, Delmarve Poetry Review, Blueline, Heart, RiverSedge, several anthologies and other journals.
Maryanne Hannan has lived most of her life in upstate New York where she teaches Latin at Siena College. She has published poetry in numerous journals including Eclipse, Poet Lore, Pebble Lake Review, Stand (UK), Xavier Review, Umbrella, Windhover and in several anthologies, including fifteen of June Cotner's books.
Marie Harris is an editor, freelance writer, and poet whose most recent books are Weasel in the Turkey Pen (Hanging Loose Press) and Your Sun, Manny (New Rivers Press). She has also written two books for children in the Sleeping Bear Press state alphabet and number book series. Her New Hampshire titles are G is for Granite and Primary Numbers. She was the NH Poet Laureate from 1999 to 2004. Web site: www.marieharris.com.
Clay Harrison is a retired police officer who has been writing poetry and song lyrics for fifty years. His poetry has appeared in numerous publications including Saturday Evening Post, Ideals, and Salesian inspirational publications. His song, "Lest We Forget," was performed at the WWII Memorial in Washington, D.C. to commemorate the 60th anniversary of the war's end.
Penny Harter's most recent collections are The Night Marsh (2008), Along River Road, Buried in the Sky, and Lizard Light: Poems from the Earth. Her work appears in anthologies and journals worldwide, and in Contemporary Authors. She has won fellowships and awards from the New Jersey State Council on the Arts, the Dodge Foundation, and the Poetry Society of America, and the William O. Douglas Nature Writing Award. She works as a visiting poet in the schools through programs sponsored by the New Jersey State Council on the Arts and various other agencies. You can learn more about her work at http://www.2hweb.net/penhart.
Dr. C. David Hay is a retired dentist residing in scenic Parke County, Indiana with his wife, Joy. His poetry has appeared in thirteen of June Cotner's popular anthologies. He has published four books of illustrated poetry. Dr. Hay has been published internationally and is a nominee for the Pushcart Prize in Poetry and recipient of the Ordo Honoris Award from Kappa Delta Rho in 2001.
Barbara Hendryson lives in the San Francisco bay area. Over one-hundred of her poems have been included in literary journals and anthologies. She has won many awards for her poetry. Her recent chapbook, Luminosity, is published by Finishing Line Press.
Joanne Hirase-Stacey is an attorney living in southeastern Idaho with her very supportive husband and three dogs (a Belgian Shepherd, Rottweiler, and Pit Bull). She has published several short stories, articles, poetry and devotionals in numerous magazines and books including The Storyteller, Thelma, Voices of Caring: Caregivers, The Upper Room, Dog Blessings, and HCI Books: The Ultimate Christmas. When she's not working or writing, Joanne enjoys running and training for half marathons, quilting, oil painting and reading.
Rochelle Lynn Holt appeared in June Cotner?s Bless the Day, Forever in Love, and Serenity Prayers. Creature Comforts: private pen pals, a reference of emotions (iUniverse, 2008) is a commonplace self-help book with ecological ramifications. From Dusk to Dawn (iUniverse, 2007) is a true narrative about surviving grief, the passing of her partner for almost three decades. Rochelle's invented poemnovels include Bloodli(n)es (Author House, 2005); Valley of the Shadows & Surrender novel duet (iUniverse, 2004); and Mirage (PublishAmerica, 2005). Rochelle has been published in all genres annually since 1970. She now divides her time between Ft. Myers, FL and Bollingbrook, IL. Her web site is www.angelfire.com/blues2/rlynnholt.
Sally Jadlow is a chaplain to corporations and teaches creative writing in the Kansas City area. She writes poetry and inspirational short stories. Her book Sonflower Seeds is available on Amazon.com. Web site:
http://hometown.aol.com/sonflowerseeds/myhomepage/business.html
Linda Dini Jenkins is the author of Journey of a Returning Christian: Writing into God (1994) and has been published in Vermont Voices, South Florida Poetry Review, Phoebe, Tampa Review, Writer to Writer, Color Wheel/Mink Hills Journal, and Bay Windows. Her poems were also included in Christmas Blessings, edited by June Cotner (Warner Books, 2002). Linda lives near Richmond, Virginia, with her husband Timothy and Maxine the Wonder Dog. Web site: www.riverwords.com.
Janice Jones, a former elementary school teacher, is a published poet, devotional and short story writer. She lives in the foothills of California with her husband, Carl.
Taylor Joseph lives in Florida with her husband of twenty-five years. They marked their recent anniversary with a ceremonial renewal of their wedding vows. Sharing their story with readers is her way of expressing the gratitude she holds in her heart for the gift of a good man.
Jacqueline Jules is the author of over two dozen children's books including the Zapato Power series, No English, The Hardest Word, and Unite or Die: How Thirteen States Became a Nation. Her poetry has appeared in numerous publications including Christian Science Monitor, St. Anthony Messenger, Quaker Life, and Jewish Spectator. Please visit her online at www.jacquelinejules.com
When not writing & hiking or reading & walking (they can be done simultaneously), Trish Kaspar shares literary adventures across a public library desk and with her grandmuffins. She misses writing for National Kidney Foundation and a kids' newspaper but is always open to new opportunities. She has been published in June Cotner's 2006 Everyday Blessings calendar and various anthologies.
Father Paul Keenan, 1946 - 2008, was a priest for 31 years and Director of Radio Ministry for the Archdiocese of New York. He was co-host of "Religion on the Line" on WABC Radio for fourteen years, and then moved on to do his recent show on The Catholic Channel on Sirius Satellite Radio. He served as commentator for such national broadcasts as the funeral of Jacqueline Kennedy Onassis (CBS Television); the funeral of Mother Teresa (CBS Radio Network); and the visit of Pope John Paul II to St. Louis (ABC Radio News). His published books include Good News for Bad Days, Stages of the Soul, and Heartstorming. He has two selections in June Cotner's Christmas Blessings. Please visit: www.FatherPaul.com.
Candy Killion is the recipient of the 2005 Chistell Prize for Poetry, and has also recently appeared in Chicken Soup for the Recovering Soul: Daily Inspirations and the Our Fathers Who Art in Heaven project. Recently transplanted from the Northeast, she lives with her husband John and shelter mutt Max near Fort Lauderdale, FL and finds writing by lantern light during hurricane season both humbling and fulfilling. Find her at www.candykillion.com.
Paula E. Kirman is a freelance writer, editor, photographer, and website designer. She has an interest in music, faith traditions, and issues of social concern. Paula lives in Edmonton, Alberta, Canada, where she rides her bicycle, plays guitar, and frequents numerous cafes and coffee shops. Her website is www.mynameispaula.com.
Judy Klass co-wrote the Showtime cable film In the Time of the Butterflies. A teacher at Nassau Community College, she is the author of three books of poems and many produced plays. Her songs are available at iTunes and her CD, Brooklyn Cowgirl, is available at www.cdbaby.com/judyklass.
Shirley Kobar is a retired registered nurse living in Loveland, Colorado with her husband. She enjoys hiking, photography, and blues. She has been previously published in June Cotner?s Bless the Day and Davis and Schaefer's Between the Heartbeats and Intensive Care, two nurse anthologies.
Susan Koefod is the author of the Arvo Thorson mystery series. Her debut, Washed Up, was praised for its "gorgeous prose" by Library Journal. Other books in the series include Broken Down (2012) and Burnt Out (2013). She has also widely published prose and poetry, including in a number of June Cotner's anthologies. She is a recipient of a 2013 McKnight Artist Fellowship for Writers.
Verbal jester, mirthmaker verseman, Stephen Kopel has work in Family Celebrations and Baby Blessings; author of Spritz (2003), collection of eighty-two witty, wordplay pieces.
Susan Landon's poems appear in Comfort Prayers, Mothers and Daughters, Wedding Blessings, Wishing You Well, and the 2006 Everyday Blessings calendar. Her work has also been featured in numerous literary magazines, anthologies, and online periodicals.
Mary Laufer's poems and short stories have appeared in several anthologies, including Proposing on the Brooklyn Bridge, Chicken Soup for the Girl's Soul, and HerStory: What I Learned in My Bathtub. As a Navy wife, she moved thirteen times in twenty years, working in schools and libraries along the way. She settled in Forest Grove, Oregon, with her husband and daughter.
Arlene Gay Levine, MA, a graduate of NYU, is the author of 39 Ways To Open Your Heart: An Illuminated Meditation (Conari Press).
A new poetry chapbook entitled MOVIE LIFE is available from
http://finishinglinepress.com/NewReleasesandForthcomingTitles.htm
Arlene's poetry and prose have found a home in The New York Times, literary journals, an off Broadway show, radio, magazines and anthologies including in 23 of June Cotner's books. Visit her at http://www.arlenegaylevine.com to enjoy her poems, articles and more.
Debbie Levy used to practice law and edit newspapers before she started writing, which is a lot more fun on most days. She has published more than fifteen children's nonfiction books on topics ranging from bigotry to the Berlin Wall, as well as poetry, essays, and fiction. Her first novel for young readers will be out in 2007 from Darby Creek Publishing. Debbie lives in Maryland with her husband, two sons, dog, and cat, and would rather paddle a kayak around the Wye River than do pretty much anything else.
Jennifer Donice Lewis received a B.A. (cum laude) from Howard University and earned a J.D. from the University of Miami (FL) School of Law. Her fiction has appeared in Austin Layman's Crimestalker Casebook and Coloring Book (anthology, Rattlecat Press). Her poetry has appeared in Poetica, the 2006 Everyday Blessings calendar, Pacific Review, The Penwood Review, and PopPoets and is forthcoming in Poetry Motel and Feasts of Memory (anthology). She is currently polishing a literary novel as well as a book of poetry while Buddy, a.k.a. "Fluff-a-lo-nious Monk," a Siamese cat guards the diskette. Web sites:
www.publishersmarketplace.com/members/jendonice/
Judith A. Lindberg is a Port Angeles, WA native and retired elementary school counselor after twenty-seven years in the field of education. She has been published in Bedside Prayers, Family Celebrations, Heal Your Soul, Heal the World, Christmas Blessings, and Comfort Prayers, and five of her poems appear in the 2006 Everyday Blessings calendar. She has also published poems in several magazines and other publications and continues to counsel part-time in Port Angeles elementary schools and pursue her interests of writing, reading, and crafts.
Nancy Tupper Ling (Walpole, MA) is the 2005 Grand Prize winner for Writer's Digest's annual competition. In 2004, her first collection of poems entitled Laughter in My Tent: A Woman?s Search for Family was published (www.finelinepoets.com). Other publication credits include: Literary Mama, Connecticut River Review, Re)verb, Potomac Review, Mid-American Poetry Review, and Flyway.
Milissa Link is the director of Tree of Life Yoga in Minneapolis and author of the forthcoming memoir Dog Ma. Her creative nonfiction has received awards from The Loft Literary Center, Norcroft, Minnesota Literature, and Writers Rising Up. She lives near the Mississippi River with her husband Brien and their terrier Dewey. Visit her website at www.tolifeyoga.com
Janet Lombard, of Athens, Georgia, has a background in theatre as well as in writing. She has also worked in offices and in child care, but is taking early retirement this year. Janet has been published in June Cotner's Dog Blessings, Family Celebrations and Miracles of Motherhood. She has two grown children and two grandchildren, with twins scheduled for arrival in Fall 2008.
Katharyn Howd Machan, Professor of Writing at Ithaca College, is the author of 30 published collections, and her poems have appeared in numerous magazines, anthologies, and textbooks, including The Bedford Introduction to Literature and Sound and Sense. In 2012 she edited Adrienne Rich: A Tribute Anthology (Split Oak Press).
Carol L. MacKay is a children's writer and poet who lives on Vancouver Island, British Columbia, Canada, with her husband and daughter. Her poetry has appeared extensively in literary and children's magazines across North America, as well as in June Cotner's House Blessings, and on CBC Radio.
Donna J. Maebori is a physical therapist, yoga teacher and Feldenkrais Practitioner who works primarily with people who have chronic pain or balance and dizziness challenges. She started writing poems as a means of spiritual growth and is published in Bedside Prayers and in Women's Uncommon Prayers. Besides the written word, Donna loves gardening, friendships, and community activism in light of global energy and environmental issues.
The father of two sons and one beautiful, little girl, Steven Manchester is the published author of The Unexpected Storm: The Gulf War Legacy, Jacob Evans, A Father?s Love, Warp II and At The Stroke of Midnight, as well as several books under the pseudonym Steven Herberts. When not spending time with his children, writing, teaching, or promoting his published books and films, this Massachusetts author speaks publicly to troubled children through the ?Straight Ahead? program. See www.StevenManchester.com.
Arlene L. Mandell, a retired English professor who lives in Santa Rosa, CA, has published more than 500 poems, essays and short stories. Her echapbook, Scenes from My Life on Hemlock Street: A Brooklyn Memoir, is available free at www.echapbook.com/memoir/mandell.
Peter Markus is the author of a novel, Bob, or Man on Boat, as well as three short books of short-short fiction, the most recent of which is The Singing Fish. A new book of stories, We Make Mud, is forthcoming in 2011.
Kelly Matthews has the joy of spending her days with children. When she is not teaching, she also does work as a teacher trainer, conference presenter, and mentor. Even then, there is always time for poetry.
Sandra E. McBride is the author of Mist Upon the Pond, a diverse collection of her favorite poems, published in 2005. Her work has appeared in five June Cotner anthologies, including Teen Sunshine Reflections, Bless the Beasts, Baby Blessings, Wedding Blessings, and House Blessings. A self-described history buff who resides in upstate New York, she also writes children's books and short stories.
Gary E. McCormick is the author of two books of poetry: One of the Many Roses and Between Seasons. His poetry has appeared in many publications including June Cotner's Graces and 2006 Everyday Blessings calendar. His book, working title Reading Music and Other Poems?is scheduled for publication in early 2007. He resides in Berrien Springs, Michigan.
Anne McCrady is a writer, editor, storyteller and speaker whose work has appeared in literary journals, international anthologies and inspirational collections. She is author of Along Greathouse Road, Under a Blameless Moon and Kevin and the Seven Prayers. She is also the founder of InSpiritry - Putting Words to Work for the Greater Good and can be contacted through her website, www.InSpiritry.com.
Sandra McGarrity lives and writes in Chesapeake, VA. She is the author of two books, Woody and Caller's Spring, stories in various collections, and magazine articles. Her writing appears in House Blessings. Web site: http://hometown.aol.com/mygr8m8/myhomepage/books.html
Corey Mesler has been published in numerous magazines and anthologies. He has two novels available, Talk A Novel in Dialogue (2002) and We Are Billion-Year-Old Carbon (2006), as well as numerous chapbooks. With his wife, he runs Burke's Book Store in Memphis, one of the country's oldest (1875) independent bookstores.
Jennifer Anne F. Messing is a Philippine-born author, speaker, and syndicated newspaper columnist who now resides in Oregon with her husband and their three children. She holds a Bachelor of Religious Education degree (B.R.E.) from Covington Theological Seminary in Rossville, Georgia, has a diploma in Freelance Journalism and Short Story Writing, and currently serves as president of the Oregon Christian Writers. Ms. Messing has had over 150 articles and poems published in many print and online magazines and book compilations, including Romancing the Soul, Families Can Bounce Back, Evangel, Live, The Proverbs 31 Woman, Bible Advocate, FellowScript, The Christian Journal, Spirit-Led Writer. com, True Woman Online, and MochaMemoirs.com. website:
Nancy Messinger, who has lived abroad and traveled widely, is a freelance writer and editor with over 30 years of experience. In addition to editing books for several New York publishers, she writes press releases and promotional material for non-profit organizations. Here articles have appeared in national magazines such as The Western Horse and New Mobility as well as The Providence Sunday Journal. She is editor of The Cocker Home Companion and is currently seeking a publisher for her book, Humpty Dumpty?s Leg, which chronicles the trials of dealing with the medical establishment and the struggle that her handicap imposed on her life.
Ann E. Michael lives in eastern Pennsylvania with her husband, two teenagers, and numerous pets. Her poetry and essays have appeared nationwide; she's the author of three poetry chapbooks, most recently The Minor Fauna from Finishing Line Press. Web site: www.AnneMichael.com

Michelle Close Mills' poetry and short stories have appeared in many magazines and anthologies, including several volumes of Chicken Soup for the Soul as well as June Cotner's projects. Michelle resides in West Central Florida with her husband, three cockatiels and two precious rescue kitties. www.authorsden.com/michelleclosemills.
<![if !supportLineBreakNewLine]>Phyllis Ann Min, M.Ed., is a nondenominational wedding minister, animal chaplain/pet minister, and former school teacher who lives in Richmond, Virginia. Phyllis is founder of "paws4celebration," an animal ministry that creates ceremonies to celebrate the life of a pet. She writes inspirational messages for her "A Forever Star" collection which recognizes and honors the human-animal connection. Her collection of spiritual writings features: poem for welcoming a new pet; prayer for multiple pets at home; pet blessings; prayer for healing; and poem for the passing of a pet's life. Her website: www.PhylliswithJoy.com <![endif]>
Reverend Gloria Moncrief is an ordained Unity minister. She teaches Bible for Oakland City University at the Indiana Women's Prison and works for IndyPendence Job Corps helping young women prepare to leave the program and enter the professional work world. She was also the task for director and contributed several meditations for the 64 Ways, 64 Days: A Season for Non-violence, meditation book. Gloria is passionate about empowering women to make conscious decisions to improve their lives and taking time daily with her beloved dogs.
Janell Moon is the author of four volumes of poetry, including The Mouth of Home, published by Arctos Press, and four spiritual nonfiction books, including How to Pray without Being Religious, published by Elements/HarperCollinsUK. She is a hypnotherapist in the San Francisco bay area.
Dawn Mueller is in the process of writing her first novel. She has been published in June Cotner?s Family Celebrations and Christmas Blessings. She lives in Chicago with her chocolate lab who could probably write a book of her own if she could just figure out how to stop hitting so many keys at once.
Katherine Murphy is a writer, speaker, and author of Awake O Sleeper: How I Rediscovered God Through Breast Cancer. Her essays and poetry have appeared in numerous publications including St. Anthony's Messenger, Word Among Us, Coping Magazine, Kalliope, The Pedestal Magazine, Earth's Daughters, and Colere as well as several anthologies including Wedding Blessings and Miracles of Motherhood, both edited by June Cotner. Her work has been aired over NPR. She currently resides on Lake Champlain in upstate New York and can be reached via www.krmurphy.com.
Carol Murray lives in Kansas with her husband, Max, two horses, and a feline named Allie-cat. She has taught Speech and English at Hutchinson Community College for over twenty-five years and is currently writing for children full time and doing school visits, book signings, and teacher/writer workshops. She is a published poet and author, with poems in June Cotner's Bless the Beasts and House Blessings, and three picture books: Jenny's Socks and Hurry Up! for Scholastic and ABC Art Riddles for Peel Productions (see www.abcriddles.com). Her web site is www.carolmurray.net.
Leslie Neilson is an author who specializes in the areas of motivation and inspiration. Her goals are to build bridges of understanding and hope not only within her own culture, but throughout the world. Her works can be found in greeting cards, novels, collections of poetry and even picture books for Korean children. You can visit her site at http://www.illuminatedquill.com.
Sheryl L. Nelms is from Marysville, Kansas and graduated from South Dakota State University. She has had over 5,000 articles, stories and poems published, including fourteen individual collections of her poems. For longer credits listing see Sheryl L. Nelms at www.pw.org/directory/featured. She is the fiction/nonfiction editor of The Pen Woman Magazine, the National League of American Pen Women publication, a contributing editor for Time Of Singing, A Magazine Of Christian Poetry and a three time Pushcart Prize Nominee.
Eric Nelson has published four poetry collections and his poems have appeared in a wide variety of journals and anthologies. His most recent book, Terrestrials, won the X. J. Kennedy Award in 2004. He teaches creative writing at Georgia Southern University in Statesboro, Georgia, where he lives with his wife, two children, two dogs, and two cats.
A retired schoolteacher living on the southern Oregon coast, Shirley Nelson has poems in Bless the Beasts and House Blessings. Some of her poems have won prizes and she has self-published a collection, Connections. Her latest book is prose, What Happened Here?, and is based on stories and legends of Coos and Curry Counties in Oregon.
Joan Noeldechen is a poet, novelist, children's book author, screenwriter, playwright, and a product of what Pat Conroy calls ?the New South.? She has been featured in June Cotner's Bedside Prayers, Bless the Day, House Blessings, 2006 Everyday Blessings calendar, and the forthcoming Pocket Prayers and Forever in Love. Web site: http://hometown.aol.com/jnoeldechen/index.html
Susan Norton is has been a travel writer for several years. Her motto is, "Have laptop. Will travel." Her articles have been published in newspapers, magazines and on Internet sites. Also, her poetry has appeared in magazines, anthologies, greetings cards, two art exhibits, a calendar, a cruise brochure and on fortune cookies and NPR Radio. With her writing partner, Susan Dawson, she has published a seven book series of children's books on healthy eating. She has received ten awards for her writing.
Sudie Nostrand is a poet living in New York City who has just published The Paris Poems (March Street Press) and who appears regularly in such magazines as the Green Hills Literary Lantern, the California Quarterly, the North American Review, Mid-American Review, The Greensboro Review, and the Birmingham Poetry Review. Her work is being archived in the Fales Collection at the New York University Library.
Barbara Nuzzo is a founding member of Sisters in Crime-Central Jersey. Her mysteries, nonfiction stories and poetry have appeared in various magazines, newspapers, anthologies and other venues. She and her husband Ray are recent transplants to "Slower, Lower Delaware" where they are firmly taking root and flourishing as they explore their new surroundings.
Julia Older's first book, Appalachian Odyssey, included poems written in a tent on the Appalachian Trail. She has written twenty-five books. Among them are The Island Queen, based on the life of New Hampshire writer Celia Thaxter, and her eighth poetry collection, Rolling the Sun. For more, check www.AppledoreBooks.com and www.Amazon.com.
Karen O'Leary is a wife, mother, nurse, and freelance writer from North Dakota. Writing affords her an outlet for her creativity. Her articles, poetry, and short stories have appeared in June Cotner's 2006 Everyday Blessings calendar, Storyteller, Parables, The Journal of Christian Nursing, The Gem, as well as others.
Linda Opyr is the author of six collections of poetry, including the recently published If We Are What We Remember: New and Selected Poems (Whittier Publications). Her poems have appeared in numerous journals, including The Hudson Review, The Atlanta Review, The Paterson Literary Review, as well as The New York Times. In April of 2001 the Suffolk County Legislature presented Linda with a Proclamation for work.
Carl "Papa" Palmer, retired Army, retired FAA, now just plain retired, lives in University Place, WA. He has six chapbooks, been published in Toasts: The Ultimate Collection of More Than 400 Toasts, Graces and Blessings and the contest winning poem riding a bus somewhere in Seattle. MOTTO: Long Weekends Forever
Jamie Parsley is a poet and an Episcopal priest. He has authored seven books of poems: Paper Doves, Falling and Other Poems (1992), The Loneliness of Blizzards (1995), Cloud: A Poem in 2 Acts (1997), The Wounded Table: Prose Poems (1999), no stars, no moon: new and selected haiku (2004), Ikon (2005), and Just Once (2006). In 2004, he was designated an Associate Poet Laureate of North Dakota.
Cheryl Paulson has a B.A. in English/Journalism (summa cum laude) from Seton Hall University and is an Advanced Professional Certified Yoga Teacher who enjoys sharing inspirational poetry with her students. She lives in Northwest New Jersey with her husband, four children, dog and more c hickens than she can count! Cheryl founded Breathing Room Center, LLC (www.breathingroomcenter.com) in 2009, a cooperative and inspirational space where people from all walks of life can share their creative talents and experience mindfulness, movement and connection. She is honored to be a part of TOASTS!: The Ultiimate Collection of More Than 400 Toasts, Graces and Blessings and wishes for all to "Inhale Peace, Exhale Tension" each and every day!
Nita Penfold's poetry has appeared in June Cotner's House Blessings, Family Celebrations, Wedding Blessings, and Mothers and Daughters. You can find out about her available books and chapbooks at www.nitapenfold.com
A native New Yorker, James Penha has lived for the past twenty years in Indonesia. He has been nominated for Pushcart Prizes in fiction and in poetry. Snakes and Angels, a collection of his adaptations of classic Indonesian folk tales, won the 2009 Cervena Barva Press fiction chapbook contest; No Bones to Carry, a volume of his poetry, the 2007 New Sins Press Editors' Choice Award. His earlier chapbooks of poetry were Greatest Hits (Pudding House: 2001) and On the Back of the Dragon (Omega Cat Press: 1992). Penha edits The New Verse News, an online journal of current-events poetry.
Kathleen Whitman Plucker is an award-winning writer living in the Midwest. Her work has appeared in children's magazines, anthologies, and her local newspaper. A married mother of two, Kathleen enjoys organizing events, taking pictures, and scrapbooking.
Andrea Potos is the author of the poetry collection Yaya's Cloth (Iris Press) and the chapbook The Perfect Day (Parallel Press). Her poems appear in many journals and anthologies, including Mothers & Daughters (Random House), Claiming the Spirit Within (Beacon Press), and A Fierce Brightness (Calyx Books). She lives in Madison, Wisconsin.
Nancy Priff is a freelance writer and editor whose fiction and poetry have appeared in The Dan River Anthology, House Blessings, The Bucks County Writer, and other publications. They also have earned her a Fellowship from the Pennsylvania Council on the Arts as well as awards from The College of New Jersey, Philadelphia Writers Conference, and Montgomery County Community College. In addition, she has written and edited more than one-hundred books, videos, and DVDs on medical topics for health care professionals and students.
Mary Lenore Quigley, a wife, mom, grandma, avid genealogist, West Virginia transplant, and writer with a passion for poetry, lives with her hubby, Patrick, in San Marcos, CA. She is the author of three books: Indelible Ink, God Danced and By Fools Like Me; two poetry chapbooks: Going Home and Remnants; and appears in June Cotner?s Teen Sunshine Reflections, Wedding Blessings, House Blessings, Forever in Love, To Have and To Hold, Miracles of Motherhood, and Dog Blessings.. She is a Letters member of The National League of American Pen Women and founder of NCAP, North County Authors and Poets of San Diego, CA. www.Q2Ink.com
Licia Rando, M.Ed. writes for social change. Her picture book, The Warmest Place of All, and her free Caring and Connected Parenting guide http://saiv.org/parenting-guide/ were written using interpersonal neurobiology research to connect parents and children. Licia believes that interpersonal connections can heal and prevent the suffering in our world.
Steven Ratiner, poet and educator, has taught in nearly three hundred poet-in-residence programs throughout New England since 1980. His poetry and essays have appeared in numerous magazines in America and abroad. Recent poetry chapbooks: Greatest Hits, Poems 1975-2000; and Button, Button, an artist's book in collaboration with Marty Cain. His interview collection, Giving Their Word-Conversations with Contemporary Poets, (University of Massachusetts Press) was recently re-issued in paperback edition.
Elisavietta Ritchie's books are Awaiting Permission to Land, The Spirit of the Walrus, In Haste I Write You This Note, Stories Flying Time, The Arc of the Storm, Elegy for the Other Woman, Tightening the Circle over Eel Country, Raking the Snow, and others. She edited The Dolphin's Arc: Poems on Endangered Creatures of the Sea. She teaches creative writing for adults and students and is currently Co-President for Fiction at Washington Writers Publishing House.
Zoraida Rivera is a Puerto Rican writer and poet who writes in English and Spanish. Her poetry has been published in June Cotner's 2006 Everyday Blessings Calendar, Forever in Love and To Have and to Hold. Her poem "The Gift" was reprinted in Serenity Prayers. She has also published short stories and poems in textbooks for elementary school with the publishing house Ediciones SM. Some of her work in Spanish has appeared in the magazine Iguana. Her greeting card writing is being considered for publication by Blue Mountain Arts. She is working on novels for children and young adults and is a counselor in a high school in Puerto Rico. You may read some of her Spanish poetry at www.losbloguitos.com.
Peach Robidoux is a former middle- and high-school teacher who lives in Whately, MA, with her husband and daughter. Her award-winning teaching has been highlighted in an article in the Brattleboro Reformer and in a study of the teaching of critical thinking skills. Peach has written for Parents Magazine and Personal Journaling Magazine and has written two award-winning online essays. Her essay, "When Spirits use Signs," appears in the anthology, Real Stories of Spirit Communication, by Angela Hoy.
Linda Goodman Robiner's chapbook, Reverse Fairy Tale (Pudding House, 1997), is a poetic memoir about marriage and divorce, and hundreds of her poems, short stories, and articles have been published in journals and anthologies. An editor and writing coach, she has taught at six Ohio colleges; currently she facilitates workshops and coaches writers in memoir, poetry, fiction, creative non-fiction, and the healing power of writing. She has appeared in many of June's books, and on the Everyday Blessings calendar. Website: www.WriterHelper.com
Kate Robinson is a poet, fiction and creative nonfiction writer, the author of The National Mall, and an upcoming middle-grade book about the Lewis and Clark expedition (Enslow Publishing, Inc., 2005 & 2009). Her greatest interests are her four kids, two grandkids, nature, books, and studying Tibetan Buddhism with the Drikung Kagyu lineage at the Garchen Institute, located near her home in the high desert grasslands of central Arizona. Website: http://katerwriter.tripod.com
Marjorie Rommel lives in Auburn, Washington. A newspaper reporter and editor for many years, she now is a freelance writer/editor and media relations consultant and teaches college/university-level poetry, fiction, memoir and creative nonfiction. She was a 2000 Willard R. Espy Literary Foundation resident, received an Adam Family Foundation White Bridge Traveling Fellowship in 2001, and is a 2007 graduate of the Rainier Writing Workshop Low Residency Program at Pacific Lutheran University. Her poems, fiction and nonfiction have appeared in more than a hundred publications, including June Cotner's Baby Blessings and House Blessings.
Pamela Rosales is a wife, mother of two grown sons, and a grandmother who spent over thirty years raising kids, working inside and outside the home, and serving in ministry. In 2003 she joined a critique group, began writing freelance, and started publishing articles, poems, and devotions. Pamela and her husband live in Aloha, Oregon.
Daniel Roselle received his Ph.D. in History from Columbia University. During World War II, he was a member of the 30th Infantry Division and after the war, he was appointed as a United States Fulbright Professor to France. He was a Professor of History at the State University of New York at Fredonia, and Director of Publications for the National Council for the Social Studies in Washington, D.C. He is the author or coauthor of eight books, and his textbook, A World History, has been used by over a million students in the United States, Canada, and Latin America.
Andria Warmflash Rosenbaum writes poetry and fiction for children. Her poem ?Blessing for a Jewish Home? appears in House Blessings. Her latest picture book, A Grandma Like Yours/ A Grandpa Like Yours was recently published by Kar-Ben Publishing/ Lerner Publishing Group. You can visit her on the web at: www.andriawarmflashrosenbaum.com
A native of Amarillo, Texas, Sara Rosett is a contributor to several anthololgies and author of Moving is Murder, the first in the Mom Zone Mystery series from Kensington Books. Life as a military spouse has taken Sara to six states where she?s worked as a credit processor, a staff reporter for two Air Force base newspapers, and a researcher and writer for a travel company. Please visit her web site at www.SaraRosett.com.
Blanche Rosloff's poetry has appeared in June Cotner's anthologies Heal Your Soul, Heal the World and Looking for God in all the Right Places and will be published in the upcoming Forever in Love. Her work is also online.
Millie Ruesch is a published freelance writer in Fresno, California. She gleans inspiration from Yosemite and Sequoia National Parks, not far from her home. Retired and loving it, she attends creative writing classes and writes fiction, non-fiction and poetry.
In bringing together the two cultures of New Zealand, her birth land, and the United States, her present home, Gwen Tremain Runyard strives to be realistic in her poetry. She has published four books of poetry, as well as a history of her father's journeys. Her poems have been read in church groups, printed in many bulletins of the National Writers Association, published in local periodicals, and her most requested poem, "Care Giver," was highlighted on the internet by the Alzheimer's Association.
Hilda Lachney Sanderson is a Louisiana native, wife, mother, grandmother, retired teacher, and librarian. Her poems, short stories, vignettes, essays, and articles have been published in a wide variety of magazines and journals. She is the author of one science fiction novel for young people, Riddles of Nifiter (Royal Fireworks Press, 1996) and a contributor to June Cotner's anthologies Bless the Day, Christmas Blessings, Heal Your Soul, Heal the World, Bedside Prayers, Bless the Beasts, Looking for God in All the Right Places, and 2006 Everyday Blessings calendar.
Susan Knieb Schank is a freelance writer who lives in Parkville, Missouri with her fabulous husband, James, and precious daughter, Ivy Rose. She has published many articles, poems, and devotions in books and magazines for children and adults. Susan's two pictures books, Tera's Dawn and Princess Rose and the Garden Gnome will be released soon. Susan is also a Library Media Specialist in the Kansas City, Missouri School District. When not writing, working, or spending time with her family, Susan is a Girl Scout Leader, sings with the Kansas City Symphony Chorus and volunteers for the Lakeside Nature Center. Susan is a member of Harmony Vineyard Church.
Lawrence Schimel (New York, 1971) has published over seventy books in different genres, many of them in collaboration with the Spanish illustrator Sara Rojo P?rez (www.sararojo.com) with whom he creates children's picture books such as La aventura de Cecilia y el drag?n, Mi gata Eureka, and No hay nada como el original, which was selected for the White Ravens 2005. His poems have been published in diverse periodicals, such as The Saturday Evening Post, Cricket, The Lyric, and Physics Today, and are included in numerous anthologies, including Chicken Soup for the Horse-Lover's Soul, Lives: Poems about Famous Americans, The Practice of Peace, and The Random House Treasury of Light Verse. He lives in Madrid, Spain.
Barbara Schmitz has two full-length books of poetry. Her latest, How Much Our Dancing Has Improved, won the 2005 Nebraska Center for the Book Award. She has been included in many anthologies, has poems published in over 100 journals including The Prairie Schooner and River Styx as well as two chapbooks. She is looking for a publisher for her recent "spiritual memoir" about travels with her Sufi guide. She and her husband live in Norfolk, Nebraska.
Marion Schoeberlein lives in Elmhurst, IL. Her work has been featured in twelve of June Cotner?s anthologies including Wedding Blessings and Pocket Prayers; and many poetry anthologies in England (Forward Press) and in Woman's World magazine.
Doris Schuchard recently moved to the San Francisco Bay area, where she is enjoying the great weather, mountains, ocean, and many new experiences to write about. She recently began working as a caregiver for in-home seniors, and is blessed to receive just as much from them as she gives.
Joanna Catherine Scott is the author of three novels (The Lucky Gourd Shop, Charlie and the Children, and Cassandra, Lost), two poetry collections (Breakfast at the Shangri-La and Fainting at the Uffizi) and a collection of oral histories (Indochina?s Refugees). A new novel, The Road from Chapel Hill, about the anti-Confederacy movement in Civil War North Carolina and the love that grows between a runaway slave and the white girl who becomes his owner, will be published by Penguin/Berkley in November 2006.
Mary Kolada Scott, writer and artist, lives in Ventura, California, with her husband, Don. They both work at the Ventura County Star newspaper. Her work has appeared in numerous publications and anthologies, including House Blessings. Visit her web site at http://home.earthlink.net/~mscott52/index.htm
Irene Sedeora is a James Jones Short Story Award winner in the Seventh Annual Illinois Emerging Writers Competition. A published poet and fiction writer her work has appeared in various publications and anthologies. Sedeora's fictional Midwestern mystery, A HUNTING SHE DID GO is available on amazon.com. Besides writing she enjoys gardening and traveling.
Jacqueline Seewald has taught writing courses including Creative Writing at the high-school, middle-school, and college level (Rutgers University) and also worked as an academic librarian and educational media specialist. Six of her books of fiction have been published and her short stories, poems, essays, reviews, and articles have appeared in numerous publications such as: Bedside Prayers, the 2006 Everyday Blessings calendar, The Christian Science Monitor, Pedestal, Surreal, The Dana Literary Society Journal, Palace of Reason, Library Journal, and Publishers Weekly. She has twice been a winner in the Writer's Digest poetry contest.
Joanne Seltzer is published in House Blessings and the 2006 Everyday Blessings calendar. Her work also appears in When I am an Old Woman I Shall Wear Purple and many other anthologies. Born in Detroit, she has lived in upstate New York long enough to call it home.
Rabbi Rami Shapiro is an award winning poet and essayist whose liturgical writings are used in prayer services throughout North America. He has written over a dozen works of poetry, liturgy, short stories, and nonfiction, and currently directs the One River Foundation (www.one-river.org). His most recent books are The Divine Feminine and Open Secrets. He can be reached via his web site www.rabbirami.com.
William Shullenberger teaches English and African literature, epic poetry, and literary theory at Sarah Lawrence College. He has published miscellaneous poetry, and essays on Milton, Donne, Herbert, Wordsworth, Keats, and Dickinson. A Fulbright Lecturer at Makerere University in Kampala, Uganda from 1992-1994, he has co-authored, with Bonnie Shullenberger, African Time: Two Scholars' Seasons in Uganda.
Dr. Bernie Siegel is an animal lover whose home has been a rescue site for creatures of every species. He has been caring for and counseling people with life threatening illnesses for decades. His best known book is Love, Medicine & Miracles. He has two children's books-Smudge Bunny, which helps people see how difficulties can become blessings, and Buddy's Candle, which shows how to survive the loss of a loved one of any species. Dr. Siegel can be contacted via his website: www.BernieSiegelMD.com.
Monica E. Smith has been married to her college love, Scott, since 1975 (Kent State); they live in a 100+ year-old farm house on two acres of land in West Liberty, Ohio (with their two dogs), where they raised four children (who now live from Ohio to California!). Monica is a self-taught poet, with publishing credits in many print and online journals in the U.S. and internationally. She feels privileged to have received an endorsement from poet and author Nikki Giovanni for her first collection of poetry, Days of Fine Gray Ash (http://purplequill.com/days.htm). Web site: Monica's Expresso Cafe, http://purplequill.com.
Sandra Soli's poems have appeared widely in The New York Quarterly, Southern Poetry Review, Negative Capability, The Grove Review, Ellipsis, SLAB, The Mainichi Daily News (Japan), CrossTimbers, Oklahoma Today, and elsewhere. A chapbook, Silvering the Flute, was a finalist for the Oklahoma Book Award and her new book, What Trees Know, is the 2008 OBA recipient of that honor. Her article on prose poems appears in the new edition of Poet's Market (2009). Her work has been featured on National Public Radio and nominated for the Pushcart Prize. Columnist and poetry editor for a national print publication for nine years, Sandy holds an honors M.A. in writing, speaks regularly at writing conferences, and mentors poets of all skill levels.
Judith Sornberger's poems appear in June Cotner's Everyday Blessings. Her poetry collections are Open Heart (Calyx Books), Bones of Light (The Parallel Press), Bifocals Barbie: A Midlife Pantheon (Talent House Press), and Judith Beheading Holofernes (winner of the Talent House Press contest). Sornberger is Director of Women?s Studies and Professor of English at Mansfield University of Pennsylvania.
Peggy Ward Sprouse has had eight published works focusing on hidden disabilities and God's influences in our lives. She has been a chairperson at the Thomas Jefferson Library Writer's Group 2001-2002 and has taught twenty-five writing students as a volunteer teacher in a four-week class in a local library. "Blessed with Simplicity" has appeared in June Cotner's Bedside Prayers and 2006 Everyday Blessings calendar.
Molly Srode is a former nun, school teacher, and hospital chaplain who is now spending her retirement years writing books and lecturing on spirituality. She has authored Creating a Spiritual Retirement: A Guide to the Unseen Possibilities in Our Lives and coauthored, with her husband Bernie Srode, Keeping Spiritual Balance As We Grow Older. She makes her home in Columbus, Ohio.
Cassie Premo Steele is an award-winning poet, writer and professor who writes and teaches about the connections between spirituality, mothering, healing and the natural world. Her books include My Peace (WordClay, 2008), Ruin (Finishing Line Press, 2004), We Heal from Memory (Palgrave, 2000), and Moon Days (Ash Tree, 1999). She teaches courses in Ecofeminism, Ecopoetry and Writing at the University of South Carolina's Green Quad Learning Center for Sustainable Futures. Visit her website at www.cassiepremosteele.com
Margaret Stetler has had her poetry published in many small press magazines and has led a creative writing workshop called "Finding Your Own Voice." She made her living for many years as a freelance advertising copywriter, promoting books and magazines for companies like Book-of-the-Month Club, Hearst Magazines, and Scholastic Inc. She and her husband and five cats, refugees from post-9/11 New York City, now live in old-town Winchester, Virginia, where she substitute teaches, writes a monthly newsletter for the Quaker Meeting she attends, and searches for new ways to be "one of many" in the world.
Shirley S. Stevens, retired English teacher, leads The First Word writers group in Sewickley, PA. She is a board member of The St. Davids Christian Writers Conference and a member of The Pittsburgh Poetry Society. Shirley has published poems in many anthologies including Poet Lore, Common Wealth, Along These Rivers, My Turn to Care, and The Christian Century.
Lois Greene Stone, writer and poet, has been syndicated worldwide. Poetry and personal essays have been included in hard & softcover book anthologies. Collections of her personal items/ photos/ memorabilia are in major museums including twelve different divisions of The Smithsonian.
After publishing a poem in June Cotner?s Baby Blessings, Norman Styers has gone on to write poetry for a variety of publications. A former journalist and pastor, he has a Ph.D. in religious studies but now works in private industry. He and his wife Karen have a son and twin daughters.
Robin Svedi's poetry, short fiction, and essays have been published numerous times in both print and online publications. She is the contributing editor for Fresh Cooking From Your Garden (www.GardenandHearth.com/GardenCooking.htm), a site devoted to the cooking and cultivation of fresh vegetables. Robin is married to her high-school sweetheart and together they've raised two wonderful sons. :
Christine Swanberg's collections of poetry include Tonight on this Late Road, Invisible String, Slow Miracle, Bread upon the Waters, The Red Lacquer Room, The Tenderness of Memory, and most recently, Who Walks among the Trees with Charity. Her work has appeared in numerous anthologies and journals. She has won the Blanche Ellis Starr Award for the Arts, the Womanspirit Award, and several poetry awards. She lives with her husband in Rockford, Illinois.
Katherine Swarts is a writer from Houston, Texas. Her poems have been published in Sol Magazine; The Art of Music: A Collection of Writings (Volume I); Holidays & Seasonal Celebrations; and DevoZine; and on a blog, http://newsongsfromtheheart.blogspot.com. Also a professional business writer, she maintains a web site at www.spreadthewordcommercialwriting.com.
Patti Tana is Professor of English at Nassau Community College and the author of seven books of poems. She is associate editor of the Long Island Quarterly and editor of Songs of Seasoned Women (Quadrasoul, Inc., 2007), an anthology of poems by sixty-three women. Listen to Patti read "Post Humus" and other poems at www.pattitana.com
bg Thurston is a graduate of Vermont College's MFA in Writing Program and teaches poetry at Lasell College in Newton, MA. Her poetry has appeared in Tar River Poetry, The Comstock Review, The Worcester Review, and The Christian Science Monitor. She lives with her family, including sheep and chickens, on a farm in central Massachusetts.
Lisa Timpf lives rurally near Creemore, Ontario, where she enjoys creative writing, organic gardening, and walking in the woods with her dogs. Her publishing credits include one nonfiction book, St. George's Lawn Tennis Club: The First Hundred Years, and a self-published collection of creative nonfiction and poetry entitled A Trail That Twines. Lisa's poetry and creative nonfiction has appeared in a number of publications, including The Country Connection, Silver Boomers, Aethlon, and Cahoots. A contributor to June Cotner's Dog Blessings, she also writes a monthly column for Creemore Echo.
Paula Timpson has written since she could write. She writes poetry every day for the glory of God. Her son is her "Forever Muse." http://paulaspoetryworld.blogspot.com
Jean Tupper has worked as a writer and editor, workshop facilitator,
and mentor to developing writers. She is widely published, and some
of her poems appear in her collection Woman in Rainlight. She is also
the proud mom of poet and children's writer Nancy Tupper Ling.
Yrik Max Valentonis (a.k.a. Max Lizard) is a writer and cartoonist whose work has appeared in many magazines, e-zines, radio broadcasts, art exhibitions, and the anthologies: Animal Blessings and Divided Again. He is a graduate of the University of South Florida (B.A.) and Naropa College (M.F.A.), he lives in Florida with his wife, their son, and a dog that is just too slobbery. He teaches Don Jitsu Ryu martial arts, still has a day job, self-publishes the magazines ASYM for kids and Maximum Lizard for adults through his web site www.valentonis.com.
Miss Josepha van Lieshout was born in 1979 in the Netherlands where she resides to this day, and seems to have been writing her entire life. Published works include poetry, essays, columns and reviews in both Dutch and English, which were published in Canada, the USA and the Netherlands. She is currently in the process of writing a series of Dutch column-esque shorts and teaching herself the art of photography.
Dan Vera is the author of The Guide to Imaginary Moments (Red Hen Press, 2013), inaugural winner of the Letras Latinas/Red Hen Poetry Prize, and The Space Between Our Danger. (Beothuk, 2008). His work appears in various journals and anthologies including Beltway Poetry, Cutthroat, Gargoyle, Naugatuck River, Divining Divas, and Full Moon on K Street. He serves on the Split Rock Poetry Board. He publishes other poets through Vrzhu Books and Souvenir Spoon Books. For more on Dan visit www.danvera.com
Jane Butkin Wagner (formerly Jane Butkin Roth) has published poems in the anthologies Essential Love (edited by Ginny Connors), Mothers and Daughters (edited by June Cotner), Baby Blessings (June Cotner) and many journals, including Pearl, Rattle, Redoubt, Spillway, Pleiades, Jewish Women's Literary Annual, and Owen Wister Review. She edited an anthology on the divorce experience, We Used to Be Wives: Divorce Unveiled Through Poetry (Fithian Press, 2002). Website: www.literati.net/Roth
Bob Wahlert is a semi-retired meat packing executive, who spreads his time between Iowa and Florida. He has been published in June Cotner's book Wedding Blessings. He counts as part of his blessings his wonderful wife, Donna, and their five children and thirteen grandchildren.
Donna Wahlert, mother of five and grandmother of thirteen, writes poetry about the intricacies of daily life in her books, The First Pressing: Poetry of the Everyday; and Well Into the Third Act. She has been published in several of June Cotner's books, journals and anthologies, including "O" Oprah Magazine.
Davi Walders' poetry and prose have appeared in more than 150 anthologies and magazines. Her latest poetry collection, Gifts (on philanthropists), was commissioned by the Milton Murray Foundation for Philanthropy. She developed and directs the Vital Signs Poetry Project for patients and families at the National Institutes of Health which was funded by The Witter Bynner Foundation for Poetry.
Louise Webster is a writer and poet from Port Jefferson, New York. Her work has been found in many pages of the small presses. She has also achieved a respectable nod from commercial anthologies, textbooks and children's literature. "Writing is truly my passion as it lets me explore the natural world as well as the spiritual realms."
Ellen Weiner lives in Phoenix, Arizona, with her family. Her books include Taking Food Allergies to School and Taking ADD to School, both published by JayJo Publishing. She has also co-authored a book on spirituality, The Other Side of the Vail, and contributed to June Cotner's anthology, Wedding Blessings.
Rev. Edie Weinstein
is a colorfully creative journalist, radio host, interviewer, speaker, social worker interfaith minister, energy worker, author, and clown whose work is widely read in magazines, newspapers and websites world wide. She refers to herself as a Bliss Mistress who shows others that they can live their highest bliss, and is the author of The Bliss Mistress Guide To Transforming The Ordinary Into The Extraordinary. Her website is
www.liveinjoy.org
. She has contributed to
Wedding Blessings
and
Baby Blessings
Shaunda Kennedy Wenger has always enjoyed dipping into the creative side of life . . . namely, writing, cooking, and gardening. In 2003, her passion for books and food came together in The Book Lover's Cookbook, Recipes Inspired by Celebrated Works of Literature and the Passages That Feature Them (Ballantine Books). When not working on a novel, she dips into writing what she calls short snippets of life,
like those featured on soaps hand-crafted by Spirit Goat company (Literary Lathers 2005), and the poem in June Cotner's Miracles of Motherhood: Prayers and Poems for a New Mother. Her first five children's books (Bear Nests in Trees; How Can That Be?; Can Caterpillar Wait?; What's Going On In the Garden?; Egg to Butterfly, An Amazing Life Cycle; and Every Day Subtraction) will be published by Richard Owens Publishers and Benchmark Educational Publishers in 2007.
Joanna M. Weston, M.A. is a chocoholic writer who has had poetry published in anthologies and journals for twenty years. Her middle-reader The Willow-Tree Girl was published in 2003. Web site: www.islandnet.com/~weston/
Gail White lives in Breaux Bridge, Louisiana with her husband and two cats. Her latest book is Kiss and Part (www.ddaze.com).
Nancy Whitlock has been writing poetry since she was in high school. She lives in Seattle with her husband and son and is the founder and director of Nature Consortium, a local, grassroots nonprofit organization whose mission is to teach environmental lessons through the creative arts and hands-on conservation projects. She founded the organization back in 1998 from a desire to connect with neighbors and the idea that everyone has the ability to create and explore the arts and improve the environment.
Originally from Hartford, Connecticut, Jill Williams divides her time between Vancouver, British Columbia, and Sedona, Arizona. Her "creative blessings" include three nonfiction books as well as two volumes of poetry, The Nature Sonnets (Gival Press, 2001) and A Weakness for Men (Woodley & Watts, 2003). Her web site is www.jillwilliams.com
Paul J. Willis is a professor of English at Westmont College in Santa Barbara, California. He is the author of Bright Shoots of Everlastingness: Essays on Faith and the American Wild (WordFarm) and two collections of poetry, Visiting Home (Pecan Grove Press) and Rosing from the Dead (WordFarm). With David Starkey, he co-edited the anthology In a Fine Frenzy: Poets Respond to Shakespeare (University of Iowa Press).
Teri Wilson is the author of All Creatures of Our God and King: What God's Word Says About Animals and the Hoofbeats & Heartstrings series of romance novels celebrating love, miracles and the beauty of horses. She is the winner of the 2006 Westminster Kennel Club Angel on a Leash Writing Award, the 2008 Spaniel Journal Writing Contest and the 3rd place winner of the 2007 American Kennel Club Short Fiction Contest. You can learn more about Teri's books by visiting her website at www.teriwilson.net.
Nancy Means Wright has published poems in Carolina Quarterly, Green Mountains Review, Wisconsin Review, and elsewhere; in anthologies from Beacon Press, St. Martin's Press, Ashland Poetry Press, Papier Mache, et al.; and in two chapbooks (New Spirit Press and Pudding House). A former Bread Loaf Scholar, she lives in Cornwall, VT and is currently Scholar for the Vermont Humanities Council. Web site: www.nancymeanswright.com
Donna Wyland lives in Powell, Ohio, and summers on Nantucket Island, Massachusetts. As Director of the Foundation of Hope (www.fohope.org), she divides her time between writing and working with numerous ministry organizations to share the love of God and the hope of heaven with children around the world. She has been published in Focus on the Family: Single Parent Edition, Clubhouse, Jr., For This I Am Grateful, and various other publications. A complete list of her publishing credits can be found on her web site, www.donnawyland.com.
Gary Young's books include Hands, The Dream of a Moral Life, Days, Braver Deeds, winner of the Peregrine Smith Poetry Prize, and No Other Life, which won the William Carlos Williams Award. A new book, Pleasure, has just appeared. He has twice received fellowships from the National Endowment for the Arts, and other awards include a Pushcart Prize and a fellowship from the National Endowment for the Humanities. He edits the Greenhouse Review Press, and teaches at the University of California, Santa Cruz.