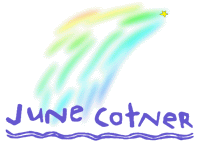 june@junecotner.com
P.O. Box 2765
Poulsbo, WA 98370
June's Biography
Meet the Contributors
Articles on Publishing

Welcome to A World of Inspiration!
My newest book, FAMILY CELEBRATIONS: Poems, Toasts, and Traditions for Every Occasion is now in bookstores.
If you would like to receive an announcement when I have a new product published, please go to Join Mailing List.

For information about having your book proposal evaluated please go to Book Proposal Services.

If you would like to read a wide variety of ideas for getting published, please see Articles on Publishing.

If you're a poet who has contributed to my anthologies, please check What's New for the status of my current projects.
Enjoy your visit . . . and come back soon!